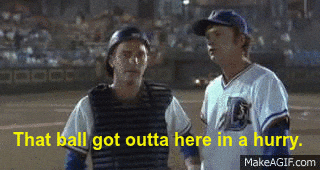 Nuke just had a great inning. He cruised though the hitters he faced and is pretty full of himself and he returns to the dugout. He should be happy, right?
Of course not, according to Crash Davis. Crash brings Nuke back to reality very quickly with:
"Your fastball is up, your curveball is hanging, they would rip you in the Show"!
Nuke responds with a very millennial response. "Can't you let me enjoy the moment?"
Of course not. In Crash's world there is no time to enjoy the past. He wraps is up very succinctly with, :"The moment is over!"
What's the moral to the story? You can always do better. You always have something to work on. You should never rest on your past accomplishments and move on to the next thing you want to improve upon.
Our veteran, Crash understands a couple very simple things about human nature. If you spend too much time enjoying what you have done you are less likely to work on the things you need to work on to continue to improve.
The moment is over! So get back to work!
About the Author: Tory Acheson brings a wealth of knowledge to the Fastpitch Prep staff. He has coached at all levels of the game, including the last 25 years at the college level at the University of Wisconsin – Parkside, Tennessee Tech and Kennesaw State. He began his coaching career at the high school level spending 9 years Whitnall High School in Greenfield, Wis. and is now working as a professional softball instructor.
Comments? Questions? Suggestions?