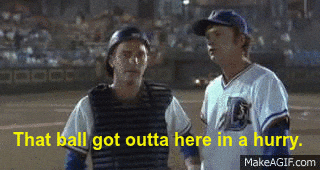 Pitchers and pitchers' parents, this one is for you.
We all know that pitchers love the strikeout. The only person who loves a strikeout more than a pitcher is the pitcher's parents. You have spent all this time and money on pitching lessons so we should expect to see the payoff, the K!
Crash hits this nail right on the head when he tells Nuke to:
"Stop trying to strike out every hitter. Throw some ground balls, it's more democratic!"
Of course, Nuke, being a young and inexperienced pitcher thinks it's all about getting the strikeout. He wants to "announce his presence with authority" which leads to a home run that earns the hitter a free steak dinner!
A pitcher's job is to get outs. Period!
It makes everyone happy to get easy outs quickly. Your defense stays engaged and is likely to play much better. They are involved and in the game because the ball is going to get hit to them. You will have great team defense and a lower ERA.
Crash wants Nuke to learn a very valuable lesson that applies to all pitchers. Don't try to do too much. Don't try to strike everyone out. Get outs and get back in the dugout.
About the Author: Tory Acheson brings a wealth of knowledge to the Fastpitch Prep staff. He has coached at all levels of the game, including the last 25 years at the college level at the University of Wisconsin – Parkside, Tennessee Tech and Kennesaw State. He began his coaching career at the high school level spending 9 years Whitnall High School in Greenfield, Wis. and is now working as a professional softball instructor.