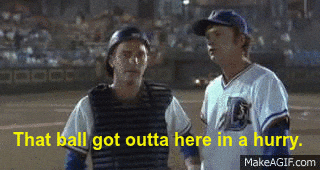 Nuke is struggling to get anyone out. His pitches are not working and he needs help. The veteran, Crash Davis, heads to the mound and offers some colorful advice. Nuke isn't interested in what Crash has to say , yet, but the message gets through.
Hold it like an egg!
Crash hits another key point with this very simple statement. Nuke is struggling and his pitches are getting crushed because he is too tense. His tension is leading him into a trap that all ball players fall into. Trying too hard. Trying to over throw all his pitches and thus throwing a lot of fatties that get killed.
The point is a simple one: Learning to relax and perform the skills required to be successful in this game is a practicable skill. Learning to control your breathing and learning to control the tension you're experiencing will lead to more success.
Practice your mental game and you will become a better player. Emphasize the mental game of your players and you will become a better coach.
About the Author: Tory Acheson brings a wealth of knowledge to the Fastpitch Prep staff. He has coached at all levels of the game, including the last 25 years at the college level at the University of Wisconsin – Parkside, Tennessee Tech and Kennesaw State. He began his coaching career at the high school level spending 9 years Whitnall High School in Greenfield, Wis. and is now working as a professional softball instructor.