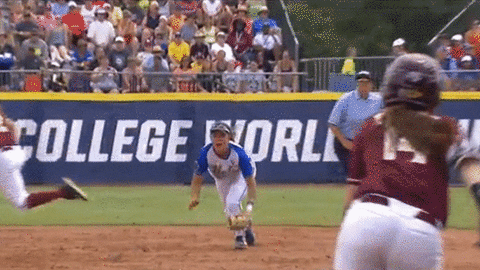 Players can learn a great deal from watching the best players play the game. There is no doubt that some of the best players on the planet were playing in Oklahoma City this year. I was blown away by the talent that was on display. Awe-inspiring to say the least. And observing these players gave me a chance to see a bunch of special things.
Defense: Players communicate, move constantly, back up plays and anticipate what is coming next. It was very rare to see a player who didn't have a plan for the next play. It was great!
Pitchers: They all hit their spots, change speeds, spin the ball and attack the zone. The number of times I saw a pitch hit the catcher glove without an inch of movement was too high to count. The great movement of the breaking pitches was something to behold in person and the great change-ups a couple of pitchers threw were absolutely back-breaking.
Catchers: They're the true coaches on the field. Communicating, making calls and keeping their pitchers focused. They are the captain of the defensive ship and seeing them command the field was awe-inspiring.
Hitters: Using a consistent hitting routine to focus on the task at hand was huge. A deep breath, a release to allow them to forget the last swing or bad at bat, stepping into the box with great confidence and strong body language told me they were ready to go to battle.
Aggressiveness: Seeing so many players attack the ball or make all or nothing plays on defense was one of the coolest things. These players appeared to play a brand of fearless ball that was exciting to see. They didn't always succeed, obviously, but they went after the next pitch or play like they felt why couldn't fail.
Supportive Teammates: I saw so many players pick up a teammate, cheer a great play, give a high five or just flat out get pumped for a teammate it was impossible to count them all. To see a player pick up a teammate who just made an error that was very costly was heart-warming and a great example for young players to emulate.
There was a lot to be learned from watching the games at the WCWS. You can see a lot on TV but you see a great deal more when you are there. If you love this game, you need to make the trip to OKC. It's a bucket-list event!
About the Author: Tory Acheson brings a wealth of knowledge to the Fastpitch Prep staff. He has coached at all levels of the game, including the last 25 years at the college level at the University of Wisconsin – Parkside, Tennessee Tech and Kennesaw State. He began his coaching career at the high school level spending 9 years Whitnall High School in Greenfield, Wis. and is now working as a professional softball instructor.