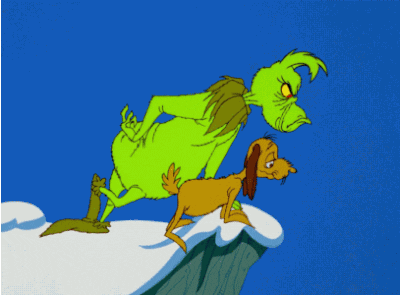 The holiday season is upon us, which means a never ending loop of Christmas classics on TV, Netflix and at the movies. Classic themes emerge through all these Christmas specials such as hope, forgiveness, generosity and faith. We watch these movies, over and over again, because they often remind us of why we love the holidays.
Then there is the Grinch!
We all know the story of the guy with a heart so cold it's covered with ice. The Grinch has only one goal as the story begins, to ruin Christmas for the "Whos in Whoville" because he has lost his faith. We all know that the Grinch has his heart melt thanks to the amazing spirit the Whos show even after he steals their Christmas.
Sorry kids, this story might end up working out in the end but it's no happy ending. The Grinch is alive and well in the game of fastpitch softball. All you have to do is listen.
We have lamented the rash number of college softball transfers over the last couple of months on our Everything Fastpitch podcast and in these blogs. Some people are happy to see that players now have more freedom to move from program to program. Others are shocked by the way the college landscape has changed, almost overnight.
Here comes the Grinch…
When a college coach is presented with the possibility of greatly improving their team by taking a transfer player into the fold what do you think they are going to do? Of course, they want to win, so when they are given the present of a great pitcher or catcher, they are going to accept. It just makes sense to do whatever it takes to keep winning.
But there is a catch, and it is a big one. When that player transfers they expect to get a scholarship right? Of course they do. And they will but that is where it gets ugly.
Almost all Division I programs operate near the maximum number of scholarships. Most of the coaches I talked with said they are routinely at 11.5 to almost the full 12 scholarships as they begin the school year. And why, because they are investing everything they can into winning right now. Saving a reserve of scholarship money isn't a great strategy compared to getting all the talent you can in the building right now.
So what does a coach do when they get the opportunity to add a great player but they don't have the scholarship money to get them available?
You guessed it! They take it away from someone who is already on the team and give that scholarship money to the new, better player. One national championship contender recently picked up an All-American pitcher via the transfer free agency madness and had to come up with the money. They met with their entire freshman class and explained to them that each of them was giving up part of their scholarship to allow them to add this game changing player.
Wow! How Christmassy it must feel to find out that your coach is taking part of your scholarship away because they found a better player?
"You'll shoot your eye out, kid!"
About the Author: Tory Acheson brings a wealth of knowledge to the Fastpitch Prep staff. He has coached at all levels of the game, including the last 25 years at the college level at the University of Wisconsin – Parkside, Tennessee Tech and Kennesaw State. He began his coaching career at the high school level spending 9 years Whitnall High School in Greenfield, Wis. and is now working as a professional softball instructor.