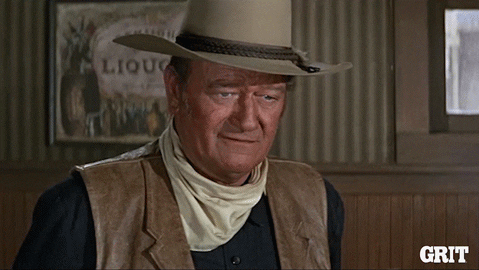 Icons? Legends? Larger than life? When you are my age there are a few people that fall into this category. There are a few people throughout our lives that make a mark. that leave an impression that never leaves you.
Well, John Wayne is one of those people for our generation. I know many of the younger readers are going John who? And wondering if "The Duke" is a rapper or or hip hop legend. Well, what he was is an old fashioned movie star!
How big a star was John Wayne? He got to make the same basic movie three different times, same story, just with different co-stars and all of them were hits. El Dorado is one of my favorite movies but I still get confused whether it is the one with Dean Martin or James Coburn or Robert Mitchum as his old friend drinken sheriff who needed John Wayne to ride in and save the day.
So the point is that John Wayne created a list of five rules to live by. Of course, he wasn't thinking about coaches when he wrote them but they do apply!
1. Money can not buy happiness but it is more comfortable to cry in a Mercedes than on a bicycle.
2. Forgive your enemy but remember the b@$t@/ds name.
3. Help someone in trouble and they will remember your name when they are in trouble again.
4. Many people are alive only because it's illegal to shoot them.
5. Alcohol doesn't solve any problem, but neither does milk.
We often talk about coaching like we are all supposed to be like Mother Theresa. That we should always turn the other cheek and live by the "Golden Rule". That the coach should always take the high road and should be the one to forgive and forget.
I agree most of the time, but every once in a while you better remember the gems of wisdom The Duke shared with us. Sometimes all you get from turning the other cheek is two bruised cheeks!
About the Author: Tory Acheson brings a wealth of knowledge to the Fastpitch Prep staff. He has coached at all levels of the game, including the last 25 years at the college level at the University of Wisconsin – Parkside, Tennessee Tech and Kennesaw State. He began his coaching career at the high school level spending 9 years Whitnall High School in Greenfield, Wis. and is now working as a professional softball instructor.