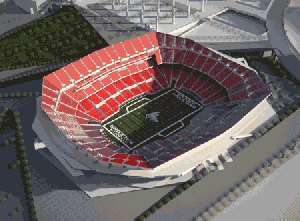 Rachel Lawson, the Head Coach from Kentucky tweeted something recently that really got my attention. Her thought was about the softball dream world where all high school championships would be held in venues that can really accommodate the magnitude of the event.
The event that she was attending was the Georgia High School State Championships in Columbus.
Now there are many things about the event in Columbus that are great. The atmosphere is electric with so many teams playing such meaningful games. You can feel the tension hanging on every pitch. Having all the different classes competing on one location creates a spectacle, for sure.
The stadium field is great. You have a true colosseum of softball with a few thousand seats and a facility, that while in need of a facelift, feels like a championship venue. Unfortunately, a very small percentage of the teams get to play in the stadium. Those that do, have memories to last a lifetime.
But…
Seating, at all the other fields is limited and requires the majority of fans to battle it out to get real estate to set up their lawn chairs. Many of the more nervous types are standing, pacing and wandering around in the areas around the fields. The college coaches take up their spots behind the sea of lawn chairs so they can visit with each other and babysit their future players.
Foul ball madness. The fields are perilously close to each other and the number of people getting hit by foul balls from adjacent fields is pretty high. I haven't seen any serious injuries but I have seen some very scary near misses.
Concessions need some serious work. The location and convenience of the concessions stands leaves a lot to be desired. There is a single line that takes a very long time to serve people who are looking for some ball park fare. While you are waiting in line you are also in the line of fire for foul balls from three different fields. And after you take your life into your hands to get some food it is hit or miss, to say the least.
Temporary fences surround all the fields. You already know how much I hate temporary fences. At least a handful of games every year are impacted by the use of temporary fences. What side of the fence was she on when she "robbed" that home run? Not that the games are that important, right!
So here are my suggestions:
Bring in more bleachers. If you don't need them for the rest of the year, borrow some from some of the other parks in town.
Put up netting to protect the fans. There is no reason to leave people in harms way.
Food trucks would be happy to have the opportunity to bring more food options into the ballpark. Healthy food at the ballpark, I know blasphemy!!
Or, relocate the tournament to have the big games played at a more suitable venue designed to accommodate this type of event. In Wisconsin, they play all the state finals games at the University of 'Wisconsin stadium. Great venue with plenty of seating, great food and a safe place to watch the game. Now, the trade off is that you can't have a mega event like they have in Columbus but I think it is worth considering.
In Georgia you could have a different division each assigned to play their games at a college venue. You have eight divisions and more than eight college venues that would love to host such an event.
They would be less colossal events, for sure. But they may be more memorable events for the kids.
About the Author: Tory Acheson brings a wealth of knowledge to the Fastpitch Prep staff. He has coached at all levels of the game, including the last 25 years at the college level at the University of Wisconsin – Parkside, Tennessee Tech and Kennesaw State. He began his coaching career at the high school level spending 9 years Whitnall High School in Greenfield, Wis. and is now working as a professional softball instructor.