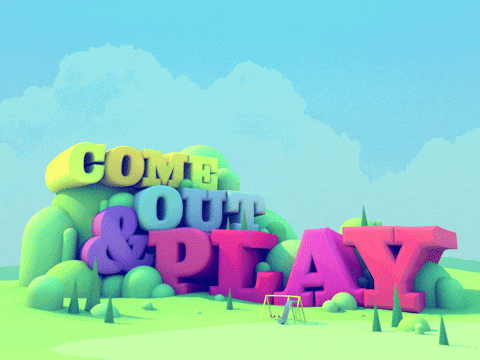 We all know kids, especially young kids, need to get out and play. Those of us that are from an earlier generation remember the days of playing outside from sun up to sundown every day. We played anything and everything. We could play baseball in the alley with three kids, we could play kick the can, we would play burnout against the side of the donut shop. But we always played, with no parents telling us what to do.
Many kids still play but they are all forced into highly organized, parent-driven sports. The days of a group off kids just meeting up at the park to play ball seem to be long gone and replaced by 6-and-under travel ball where every kid has a bat bag, helmet, bat and at least 3 uniforms.
Schools are starting to see the value of free play as they are emphasizing and in many cases increasing time for recess. More time for free play without adults directing the play. Give kids some balls and some time and see if they can't create their own opportunities to play.
Communities are also seeing the value of free play. Skate parks are becoming a high priority. Why skate parks? They encourage free play. One fo the things we know is that kids want to be able to experience creativity without consequences. They know they might fall, but no one is there to critique it.
We want to offer free-play opportunities for our kids. We often take away those opportunities by forcing kids into organized, parent-driven, activities.
Once upon a time I asked our team to create a game for them to play at practice. I told them there were no rules other than they needed a game where all the players could participate and that didn't look like softball. You would have thought I asked then to cure the common cold or split atoms. After a great deal of discussion they came up with a game that looked an awful lot like dodgeball. It reinforced the idea that kids are missing the opportunities created by free play.
Let them play!
About the Author: Tory Acheson brings a wealth of knowledge to the Fastpitch Prep staff. He has coached at all levels of the game, including the last 25 years at the college level at the University of Wisconsin – Parkside, Tennessee Tech and Kennesaw State. He began his coaching career at the high school level spending 9 years Whitnall High School in Greenfield, Wis. and is now working as a professional softball instructor.