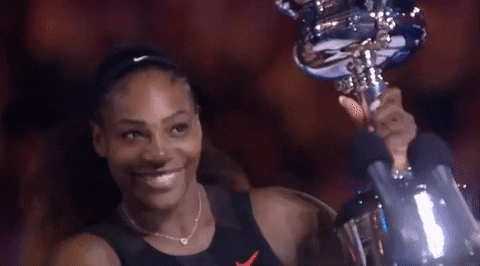 We all want to believe that our kids are the next big thing. We all hope that our child will be the next Rachel Garcia or Missy Franklin or Serena Williams.
Hope is a beautiful thing, but it isn't always a great strategy.
Well several parents of some of those all-time greats have offered a few tips for all of us to help us navigate the path of expectations and reality. The purpose of this blog isn't to help you make your kid the next Serena Williams! It is designed to help your kid be the best they can be.
Failure is an option! Every athlete will fail at some point, even the best ever. Allow them to experience the failure for what it is, a learning experience. The sadness they feel will help them assess what to do differently next time and, hopefully, have a different outcome. When you protect your kid from failure, you are stealing learning opportunities from them.
Don't let other people define you! You can not be all things to all people. You have to be true to yourself and work as hard as you can to be the best version of you that you can be. Trying to meet other people's expectations is a trap that cripples many kids.
Let your kids see you struggle! When your kids see you struggle to accomplish something and survive it, they gain confidence in their ability to do the same. Let them see that you will keep working hard to overcome a setback or to accomplish a new task and you train them to overcome struggles of their own.
Talk about anything but the game! Never rehash your kids performance right after the game. Your kids do not need you piling on with your criticism and pointers right after they have played. Ask them if they had fun, and then go get dinner. You are the parent not the coach!
Let their teammates hang around! Your kids will hit the stage where they just don't want to talk to you. We all know it's coming. By keeping their friends around, letting them tag along, volunteering to drive the carpool will offer a great opportunity for youth stay abreast of what is going on. We all know kids will talk to someone, if it's not going to be you, you might be able to still get the information you want by listening in.
Let the coach coach! You are their parent first and always. Even when you feel like you are knowledgeable or deserve the right to "help" coach your kid, you are almost always doing more harm than good. You are undermining the coach and confusing your kid.
This too shall pass! When it all goes wrong and your kid feels the weight of the world you need to remind them of a simple truth. It's only a game and no matter how bad they just played the sun is going to come up tomorrow. Love them, support them, allow them to experience the disappointment but help them keep it in perspective.
About the Author: Tory Acheson brings a wealth of knowledge to the Fastpitch Prep staff. He has coached at all levels of the game, including the last 25 years at the college level at the University of Wisconsin – Parkside, Tennessee Tech and Kennesaw State. He began his coaching career at the high school level spending 9 years Whitnall High School in Greenfield, Wis. and is now working as a professional softball instructor.