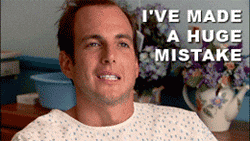 Coaches. How many times have you left a practice feeling like you and your team are in real trouble because of how things went that day? Too many mistakes, too many errors, lack of focus, and on and on the list goes! Trust me, I have done it too, so I feel your pain.
Now that I am away from the day-to-day of coaching a team and working with players in an instructional setting, I have come to a very strong and clear-cut conclusion. I had it wrong, really wrong for a long time. I, like most coaches was looking through the wrong filter.
What have I learned?
If your practice is mistake free, you are not working on the right stuff.

If your students in lessons hit every ball hard, you are not challenging your kids enough.

If you are killing yourself because your team makes mistakes in practice, you need to change the way you are evaluating your practices.
We have it backwards. We want practice to be clean, so we don't always challenge our kids enough. As a result, they make the big mistakes in the games. We get into a routine that allows our practices to be smooth and mistake-free, but don't challenge our players enough and then pay the price on game day.
Mistakes in practice are good. Mistakes in lessons are good. Practices where we really struggle to overcome difficult situations are really good.
What's the bottom line? As long as we learn from them, mistakes are good.
About The Author: Tory Acheson brings a wealth of knowledge to the Fastpitch Prep staff. He has coached at all levels of the game, including the last 25 years at the college level at the University of Wisconsin – Parkside, Tennessee Tech and Kennesaw State. He began his coaching career at the high school level spending 9 years Whitnall High School in Greenfield, Wisconsin and is now working as a professional softball instructor.