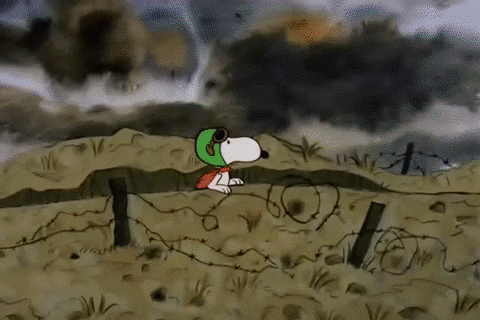 What if I told you that I used to be a history teacher? A long time ago I got my degree in secondary education because I wanted to coach and it seemed like the best option for me to get into coaching at the high school level. Well, I only spend a little while in the classroom but history is still one of my interests.
Trench warfare was a really big strategy during the Civil War and First World War until technology and strategy proved it to be a losing one. Armies used to dig in and wait for the enemy to attack them. They were protected by the trenches but also, in a way, held captive by them.
For some of us, coaching is kind of like trench warfare.
We dig in and we wait.
What do I mean?
Too many coaches are so set in their ways, so sure that their way is the best, (i.e. only) way of doing things that they're held captive. They refuse to try anything new because they are so sure their way is the right way, they've become entrenched.
The response for many coaches is to dig a deeper trench rather than to look for a new strategy that may be an improvement. Why, you ask? Well as with so many of our discussions it is human nature. We get comfortable with something and it holds us back.
Coaches, if you stay in the trenches, you are likely to suffer the same fate as the armies of a bygone era.
The game is going to pass you by.
About the Author: Tory Acheson brings a wealth of knowledge to the Fastpitch Prep staff. He has coached at all levels of the game, including the last 25 years at the college level at the University of Wisconsin – Parkside, Tennessee Tech and Kennesaw State. He began his coaching career at the high school level spending 9 years Whitnall High School in Greenfield, Wis. and is now working as a professional softball instructor.