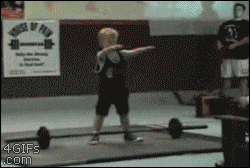 Let's talk about where real winners are made. We are talking about the "weight room" but we are really talking about doing the work. Now for serious athletes the actual weight room is part of the process. We have written plenty of blogs about how faster and stronger is always better, and you can't get one without the other.
When we talk about doing the work we mean strength and conditioning but we also mean lessons, and homework and working on your mental game and taking care of your body and…
Here is a list of what we learn about kids who do the work.
1. Builds Character
2. Reveals Character
3. Identifies Leaders
4. Eliminates the fakers
5. Identifies winners
And
BUILDS CHAMPIONS!
If being a champion was easy everyone would have rings on every finger. What we know is that being a champion requires a great deal of effort and sacrifice.
Get in the "Weight Room"!
About the Author: Tory Acheson brings a wealth of knowledge to the Fastpitch Prep staff. He has coached at all levels of the game, including the last 25 years at the college level at the University of Wisconsin – Parkside, Tennessee Tech and Kennesaw State. He began his coaching career at the high school level spending 9 years Whitnall High School in Greenfield, Wis. and is now working as a professional softball instructor.