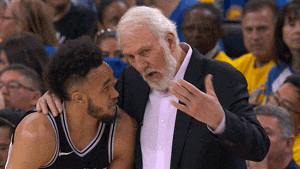 Coaching is like a tree with many branches. You have a trunk that is the foundation and then many branches the head out in every direction. Some are strong and powerful boughs and some are small-time saplings that might grow into strong branches.
Well, the trick of anyone's coaching philosophy should be using sports as a way to make better people. We all know there are lessons to be learned in athletics that are difficult to learn anywhere else.
Players often misunderstand the efforts of their coaches to help them become better people. They feel like their coach is being mean for no reason. Or is some cases that their coach dislikes them. We know nothing could be further from the truth, but we need to remind our players often about why we do the things we do.
Here are a couple thoughts for the players (and their parents) out there:
Your coach coaches because they care about you. All of you. on the field and off.

Your coach challenges you because they believe in you. They know you can handle it and will use it to become a better person and player.

Your coach expects your commitment because you are capable of accomplishing great things. And, after softball is over, many other people and things will expect you to be committed to them!

Your coach holds you accountable because they know you know the difference between right and wrong. They want you to become the kind of person that others can count on because long after softball many people will be counting on you.

Your coach is coaching you, for life!
About the Author: Tory Acheson brings a wealth of knowledge to the Fastpitch Prep staff. He has coached at all levels of the game, including the last 25 years at the college level at the University of Wisconsin – Parkside, Tennessee Tech and Kennesaw State. He began his coaching career at the high school level spending 9 years Whitnall High School in Greenfield, Wis. and is now working as a professional softball instructor.