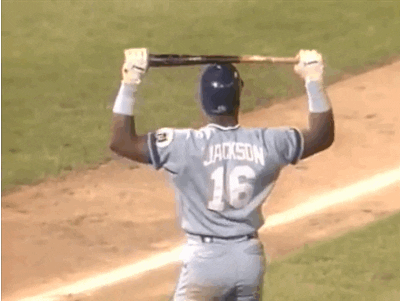 There are words that send chills down my spine every time I hear them. Slump is one of the most disheartening words to be spoken at the ball field. Of course we know all players will experience a slump or two in their careers, but we want to do everything we can to get back on track as quick as we can.
Here are our suggestions for getting back on track at the plate.
1. Keep it simple. Most struggles are less about mechanics and more about confidence. Start by thinking positive thoughts, focus on keeping an attack attitude and keep hacking!
2. Hit the cages. When you feel uncomfortable at the plate you are likely to struggle. to regain your comfort zone get back in the cage or out on the tee and get some swings in. Hitting a few balls hard in the cage or on the tee will help you get your feel back and lead to more positive swings in the games.
3. Use your mental skills. Visualization is one of the best tools to help a struggling hitter. Your body can't tell the difference between something that you visualize vividly and actually doing it physically. Visualization allows you to take a bunch of "swings" and have success every time you swing. This imagined success leads to having more success on the field.
4. Hustle. Sometimes a little infield hit can be the thing that gets you rolling. A blooper, a Texas leaguer or a bunt hit can all be ways to turn the tide. If you are running hard, you might turn a way hit into a base hit and before you know it you feel great again!
5. Watch video. Watching video is a great tool but be sure you are using it to look for things you are doing well just as much as for the things that you want to fix. Video can be a great tool in seeing that your swing is really in better shape than you might have otherwise felt based on the results you have been getting.
6. Get your eyes checked. Never forget that your vision is a crucial part of the process of hitting. You might be experiencing some vision issues and not even know it. I remember the first time I got glasses. I was shocked to see how much of the world I had never seen before!
7. Check your equipment. As players grow and change, they sometimes need to change their bat. Last year's bat might be a little too light or a little too short or a little too dirty or a little too worn out. A brand new bat won't always solve a slump but when a player feels good they are more likely to hit good. When they hit good, they get paid … off with hits!
There are a lot of things that can get a player off their game, just like there are things that can help them get back on track. No matter how far you have traveled down the wrong road, you can always turn back. If you use some of these techniques, you can make that turn around pretty quickly.