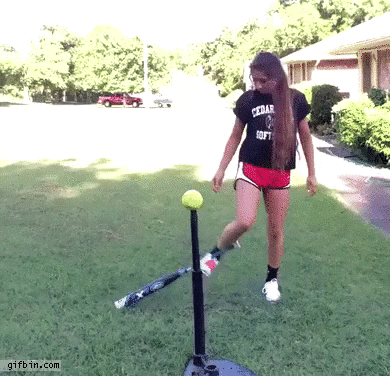 I recently shared a post I found that clearly demonstrated the impact that the count has on the batters likelihood for success. The numbers were gleaned from Division I baseball, but I have total confidence that the numbers apply just as clearly to the game of fastpitch.
Over many years of coaching, I have always preached that aggressive is good. I have prided myself on coaching kids that went to the plate to get their hacks. I never spent too much time on the science of it because I could see clearly that the best hitters were the most aggressive.
Everyone starts with a count of no balls and no strikes. Obvious right? Of course, but let's be sure about one thing, the number of balls is important but nowhere near as important as the number of strikes.
When the hitter has no strikes on them they are in total control of the at bat. As the hitter acquires strikes her batting average falls off, drastically. a hitter who can expect to approach a .360 or higher batting average when she swings with no strikes on her becomes a .158 hitter when she hits with two strikes.
Now that we know strikes are the enemy, what impact does the number of balls have?
Well, well, well. A hitter who hits with a three-balls-and-no-strikes count has the highest batting average of all situations. Followed closely by a three-ball-and-one-strike count. The three-ball count is important because most pitchers are told over and over again that walks are bad so they are much more likely to throw a fat pitch with three balls than any other time.
Swing at a 3-0 count? My coach would kill me! I can hear you thinking it!
Here's my advice. Worry less about how your coach will react to you being aggressive and think more about how excited your coach will be when you are hitting rockets all over the field. Sort of like the hot shooter in basketball, coaches forgive success,pretty quickly.
Aggressive is good! Bank on it!
About the Author: Tory Acheson brings a wealth of knowledge to the Fastpitch Prep staff. He has coached at all levels of the game, including the last 25 years at the college level at the University of Wisconsin – Parkside, Tennessee Tech and Kennesaw State. He began his coaching career at the high school level spending 9 years Whitnall High School in Greenfield, Wis. and is now working as a professional softball instructor.