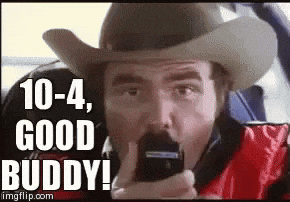 Black Trans Am with the Gold "Super Bird" on the hood.
Wait for it….
Smokey and the Bandit!
Burt Reynolds was the "guy" we all wanted to be. Our generation remembers the good looking, cocky, former athlete who dominated the box office with mostly dumb movies that just made us smile.
Burt passed away Friday and it hit me harder than it should have.
Getting old is no fun because people you love, leave you. I have reached the point in my life where the list of people who I have lost is much longer than the list of people I have left. The death of Burt Reynolds reminded me of that fact.
Sorry no softball in this blog.
Just a bit of advice from an old man.
1. Tell the people you love, that you love them, every chance you get!
2. Never take a day for granted, they are limited, so don't waste them!
3. Family is the most important thing you have! Always!
4. Memories are more valuable than money!!
R.I P. Burt Reynolds, Terry, Coach Bob and everyone else who left us too soon!
About the Author: Tory Acheson brings a wealth of knowledge to the Fastpitch Prep staff. He has coached at all levels of the game, including the last 25 years at the college level at the University of Wisconsin – Parkside, Tennessee Tech and Kennesaw State. He began his coaching career at the high school level spending 9 years Whitnall High School in Greenfield, Wis. and is now working as a professional softball instructor.